Conveniently located in proximity of everything important for joyful vacation, Villa Val is surrounded by a large Mediterranean garden that provides decent privacy for guests and spacious parking.
Only few steps out of the garden bring you directly to the seaside promenade. Turning right, within 2 minutes on foot from that point you are at the beautiful beach. Turning left, you reach old town in few minutes.
Shopping center with supermarket is within 100 m from the yard. Several fairly good restaurants that offer quality local food are nearby too.
Fans of sports activities can find diving centers, tennis courts, bike/scooter/quad/boat/etc. rentals, all within few minutes walk.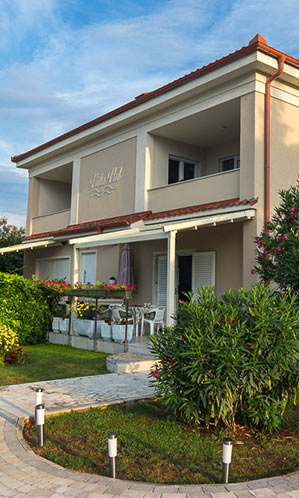 On the golden island, old town
"Golden Island" Krk is easily accessible either by car (motorway nearly all the way to the bridge) or taking a flight from various European airports to the International Airport of Rijeka (situated on the island Krk).
Since Roman Empire times over Middle Ages town Krk developed into administrative and cultural center of the island Krk, and that history is clearly visible even today. For those who like to explore old town and its rich history quietly, recommended period is either May/June or September. Sports enthusiasts might also prefer that period.
Although Krk has never been one of those destinations for mass tourism, year by year more people come to enjoy its charm so beaches and restaurants get inevitably more crowded during main Summer season.
Throughout the season there are various cultural programs (concerts, art exhibitions, open theatres, etc.) and organized trips to neighboring islands. Island Krk is famous for many bike paths, most of them near town Krk.
---
There are 4 apartments of different sizes on disposal, designed for ideal comfortable accommodation of 2 persons, or a small family with 1 child. Each apartment carries distinguished name, and interior design details are in accordance with that. They are all fitted with everything necessary even for long staying. The house has energy certification "A".